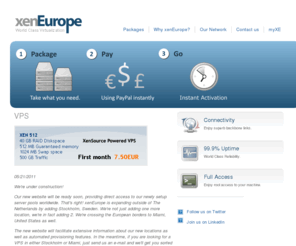 European web host and ISP Netrouting announced this week that its xenEurope division is merging into the Netrouting brand. Netrouting acquired xenEurope, a Virtual Private Server (VPS) hosting provider, in 2008.
Netrouting operates out of Sweden, the Netherlands, and the United States, and will continue to offer the same xenEurope VPS service under the product name "Xen." xenEurope staff have joined the Netrouting team, and services have already been integrated without interruption.
"This new organizational structure is necessary to streamline our business processes and continue the same level of customer service they have grown to expect," Savvas Bout, CEO of Netrouting said. "We wish to extend a warm welcome to the xenEurope family in joining with Netrouting and they can always count on us to deliver the same quality hosting experience they know and trust."
Newswire Today reports that Netrouting expects the VPS market to remain strong as end users choose the flexibility to perform tasks like reboots without onsite tech support, as well as the lower cost compared a dedicated server.
That confidence in the VPS market is shared by The Web Hosting Team, which launched its VPS offering last year, as well as Iniz, which rebranded from StormVZ a few months earlier to differentiate itself in a competitive market. Also in June of last year ChicagoVPS expanded to two new locations to meet regional demand.
While all three companies provide VPS services in the US, as Netrouting does, none of the others have the footprint on the European continent which Netrouting has.